The Amery Fall Festival's heritage has been pivotal in the Amery, Wisconsin community for the celebration of the Fall Season!
We will be celebrating the 74th annual festival in 2023!  Our festival features a grand parade, live music, a large selection of food and live entertainment, arts & crafts, beer garden, and so much more!
Our festival is held annually during the second full weekend after Labor Day.  Our very first festival occurred in 1949.
Like us on Facebook! https://www.facebook.com/ameryfallfestival/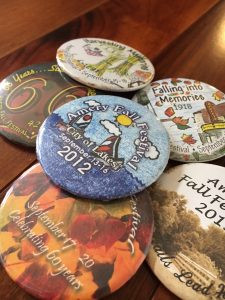 Buttons were produced for the very first festival in 1949.  They didn't produce buttons in 1950 through 1972.  They began producing buttons again in 1973 and every year since!
Come to the Amery City Hall (Amery City Council Chambers) to see the entire collection!
For further history, please contact Marlys Nelson (715-268-6719) or visit the City of Amery's website, http://amerywisconsin.org/