Amery Fall Festival:  September 11th-14th 2014
65th Annual Amery Fall Festival
Amery Fall Festival 2014 event planning is in full swing!
We are happy to announce we will have The Dweebs on Saturday night (sponsored by WESTconsin Credit Union & Bremer Bank) and The Killer Hayseeds on Friday night (sponsored by Amery Regional Medical Center)!  Refer to our Sponsors tab for a full listing of our 2014 sponsors.
Our theme is "Reelin' In The Years".  More info will be forthcoming as we finalize plans for this year's festival – refer to the Events tab for a full listing!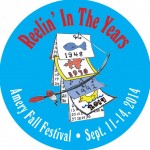 Prizes for the 2014 Amery Fall Festival Button Drawing!
#1 Winner (Grand Prize): 50″ flat screen TV
#2 Winner: $100 Amery Scrip Money
#3 Winner: $50 Amery Scrip Money